Categories
Categories
Brands
Brands
Pre - Owned Juki LBH - 783
This product is available for pre-order only
Product Description

PRE-OWNED Juki LBH-783 Single Needle Lockstitch Buttonholing Industrial Machine

Includes Fully Assembled Table and Motor
A very good buttonholing machine should finish seams of consistent quality and be widely adaptable to many different kinds of materials and seam specifications. The LBH-780 series buttonholing machines respond to these needs and help reduce operator fatigue, thereby finishing high-quality buttonholes with a higher degree of efficiency.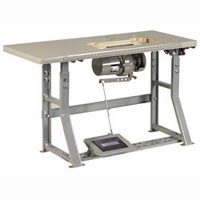 This Table and Motor may be different from the image shown.
package includes a Fully Assembled Table and a Motor..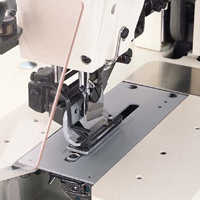 Adjustable Buttonholing Position
A newly introduced mechanism in the needle thread trimmer prevents interference with the positioning of buttonholes. The shape of the face plate is designed to provide sufficient clearance around the needle entry position. As a result, ease of operation is further improved.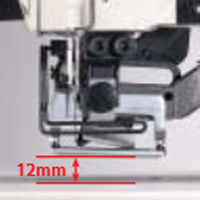 12mm Work Clamp Lift
The work clamp can be lifted as high as 12mm. The machine is capable of sewing heavy-weight materials such as bulky knits. The maximum lift of the work clamp is 12mm, enabling the machine to make high-quality buttonholes in heavy-weight materials.
Work clamp can be easily lifted. This helps to substantially reduce operator fatigue. The pressure required to depress the start pedal and lifter pedal has been reduced. This helps to dramatically reduce operator fatigue.
The knife mechanism and stop-motion mechanism produce less noise when they actuate, thus contributing to a more comfortable working environment. Thanks to the simple design of the stop-motion mechanism and unique knife mechanism, the machine operates with low noise. The machine starts, decelerates and stops smoothly
The machine neatly tucks in tetron gimps with consistency.
Thanks to the improved locus of the gimp guide, the machine is flexibly adaptable to changes in the types of gimps to be used, easily switching operation to accommodate one to three pieces of tetron thread, or one sewing thread and one span thread. In addition, the gimp guide is designed so that it shifts vertically. This means that the relation between the needle and the gimp guide is uniform even if the material thickness varies, thus allowing the machine to tuck in gimps with consistency.
It has been developed to sew ladies' wear, a process that requires a very delicate finish.
The machine ensures stable stitching performance on multi-layered portion of the material.
The improved work clamp securely hold multi-layered portions of a heavy-weight material, thereby preventing sewing troubles such as uneven material feed, slip-off of gimp and needle breakage. This allows the machine to perform buttonholing with consistency.
| | |
| --- | --- |
| Application | Buttonholing for ordinary cloth, knit, etc. |
| Max. sewing speed | 3,600 Stitches per Minute |
| Needle bar stroke | 34.6mm |
| Max. Lift of the Work Clamp | 12mm |
| Max. Thickness of Material that can be Used | 4mm (with the work clamp lowered) |
| Number of Stitches | 54~345 (by gear-change method) |
| Length of Buttonholes | 6.4~38.1mm |
| Needle | DPx5 #11 |
| Hook | DP type, Automatic-Lubricating Full-Rotary Hook |
| Deceleration Method | Belt-shifting Method |
| Lubrication | Automatic |
| Lubricating Oil | Juki New oil |
| Weight of the Machine Head | 40kg |
Find Similar Products by Category
Customers also viewed