Juki DU-1181N Industrial Sewing Machine with Table and Servo Motor
$1,299.00
Juki DU-1181N 1-Needle, Top and Bottom-feed, Lockstitch Machine with Double-capacity Hook
INCLUDES FULLY ASSEMBLED TABLE AND SERVO MOTOR
With its powerful top and bottom feed mechanism, the machine smoothly feeds a difficult to feed material or a multi layered part of material without pitch errors, achieving consistent seam quality. The automatic lubricating mechanism dramatically improves maintainability of the machine.
Description
Key Features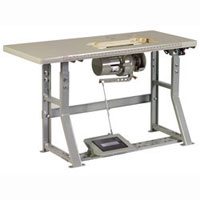 INCLUDES TABLE AND SERVO MOTOR
This Package includes a Table and a Servo Motor.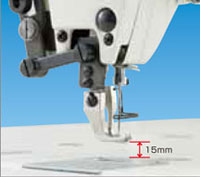 HIGH LIFT OF THE PRESSER FOOT
The lift of the presser foot, by the knee lifter, is as high as 15mm so as to support processes which require a higher lift of the presser foot such as piping and tape attaching.
THE MAXIMUM STITCH LENGTH IS 9MM
With its stitch length being as large as 9mm, the machine is applicable to a broader range of sewing processes.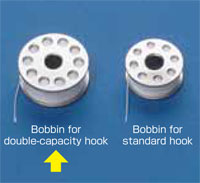 THE DOUBLE CAPACITY HOOK IS STANDARD
The machine comes with a horizontal-axis double-capacity hook, not only to decrease the frequency of bobbin thread changing, but also to enable sewing work with increased efficiency.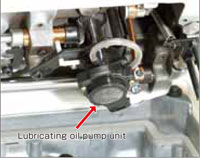 AUTOMATIC LUBRICATION
A pump-unit type automatic lubricating mechanism dramatically improves maintainability. The oil amount in the face plate and hook is adjustable.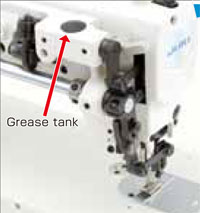 LUBRICATING MECHANISM
The top feed mechanism employs a grease tank and oil wick lubrication mechanism.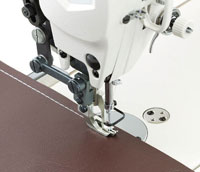 THE MACHINE ACHIEVES LOW-VIBRATION AND LOW-NOISE
The machine head is designed to achieve optimum balance, thereby reducing vibration and noise. The machine affords the operator a comfortable working environment.
---
EXCELLENT OPERABILITY
The stitch can be adjusted in both the normal and reverse directions
The height and inclination of the feed dog can be adjusted
The amount of the alternating vertical movement of the walking foot and presser foot is adjustable in a range from 2mm to 5mm according to the height of a multi-layered section of material
The horizontal feed cam, top and bottom feed cam and top feed cam can be adjusted after opening the rubber caps (three caps) on top of the machine head
---
Motor Options
SOME OTHER ADVANTAGES OF THE SERVO MOTOR INCLUDE:
They consume up to 90% less energy than clutch motors
1/3 lighter than clutch motors
Reverse motor rotation with the flick of a switch
Nothing to wear or adjust
Adjusted speed remains the same no matter how hard the pedal is pressed
Most of our customers find that the sewing machine is much easier to control with a Servo motor because of the speed control. This is especially helpful for beginner sewers but also for projects that simply don't require high speed stitching.