Description
Additional information
Reviews (0)
Description
We give unlimited technical support by email and phone. We service machines in our stores. 
Lay-in Type Thread Tension Slots
Throughout the machine make threading easy and efficient. No wrapping, just follow the color coded thread path.
Lower Looper Threader
Allows for easy threading in seconds. Just slide the thread into the slot and snap the looper into place
Automatic Rolled Hemming
Can be created quickly and easily with built-in fingertip control. There is no need to change the throat plate or foot
Cutting Width
Can be adjusted quickly for perfect seams and rolled edges
Adjustable Stitch Length
By simply turning the dial located on the exterior right hand side within the range of 1 to 4mm.
Differential Feed
Is easily controlled and adjusted by a dial located on the exterior right hand side
The lower looper threader makes lower looper threading easy. Threading can be done simply by pressing the lever, hooking the thread around the hook, and then operating the lever (MO-114D only).
It is possible to switch between roll hemming and narrow overlocking in one step simply by operating the nob for switching the darning width.
The position of the side cutter can be adjusted easily with a dial. The space between the needle and the cutter can be adjusted by turning the knob, depending on the type of fabric used or the condition of the stitches, such as when the edge of the fabric curls up or when there is extra thread.Other features
Presser foot pressure can be adjusted by turning a dial, according to the type of fabric used.
A lamp is provided to illuminate the area around the needle.
There is also an optional two-thread attachment for two-thread sewing (included as standard on the MO-114D)Sara, we recommend the latest model Juki MO 114D 4 thread serger below because of the easier lay in thread tension system that do not fail to register thread tensions, whether threading or operating the machine. The much older model MO654D model can require that you pull each threads through the needles and loopers to make sure the thread is all the way down between the tension discs before sewing. The main problem is the upper left round tension knob that does not have enough angle in the threading path to naturally pull the thread in between the tension disc by itself. Raise the presser foot. On the Juki MO 114D the tension is automatically released, so the threads fall down between the tension discs without having to be pulled through. The MO634 and all other Juki home sergers with round tension knobs do not have a tension release mechanism when the presser foot is raised. Hope this information helps. Thanks. John
US Warranty 5 Years Mechanical, 1 Year Electrical, 90 Days Service Labor on defects in material and workmanship.
Extended US Warranty: Free 10-Year Warranty
Non-US Warranty: 30 days parts and labor
Specifications
Juki MO114/104D Instruction Manual
Number of Threads: 2/3/4 Threads
Needle: Schmetz 130/705H Nm 70, 80, 90
Standard Overlock Width:
-Left Needle: 5-7mm
-Right Needle: 3-5mm
-Rolled Hem: 1.8-2.2mm
Stitch Length: 1-4mm (Standard : 2.5mm)
Differential Feed: 0.7-2.0 Ratio
Presser Foot Lift: 5mm/7.5mm
Sewing Speed: Maximum 1,500spm
Differential Feed: Dial, Exterior right hand side
Adjustable Stitch Length: Dial, Exterior right hand side
Upper looper converter: Standard equipment2, 3, or 4 Thread Stitching
Lower Looper Threader- Allows for easy threading in seconds. Just slide the thread into the slot and snap the looper into place. This get the thread just where you need to thread the looper.
Lay in Tension System
Universal throat plate allows you to go from standard serge to roll hem with the flip of a switch
Adjustable cutting width
Left needle 5-7mm
Right needle 3-5mm
Rolled hem 1.8-2.2mm
Adjustable stitch length 1-4mm
Differential Feed 0.7-2.0 Ratio
Presser foot lift 7.5mm
Adjustble presser foot pressure
Sewing LightJUKI MO-104D and MO-114 Serger

JUKI MO-114D & MO-104 Video Lessons:- Chapter 1: Set Up and Operation, Blind Stitch Presser Foot For Right Needle, Chapter 2: Threading, Universal Blind Stitch Presser Foot For Right and Left Needle, Chapter 3: Trial Sewing After Threading, Elasticator Presser Foot, Chapter 4: Adjustments and Settings, Chapter 5: Securing Seams, Chapter 6: Inserting Needles, Chapter 7: Thread Breakage and Unpicking Seams, Chapter 8: 3-Thread Overlock, Chapter 9: Rolled Hem, Chapter 10: Maintenance, Chapter 11: Presser Feet.

JUKI MO-114D and MO-104 – Chapter 11: Optional Presser Feet Use
Included Accessories
Included Accessories
Electronic foot control
Spool caps
Tweezers
Cleaning brush / needle inserter
Nets
Needle set 130 / 705
Small screwdriver
Oiler
Accessory bag
Dust cover
Manufacturer's Warranty:
5 Years Mechanical Defects
2 Years Electrical
90 Days Adjustments on Defects in Material Workshop
Other Images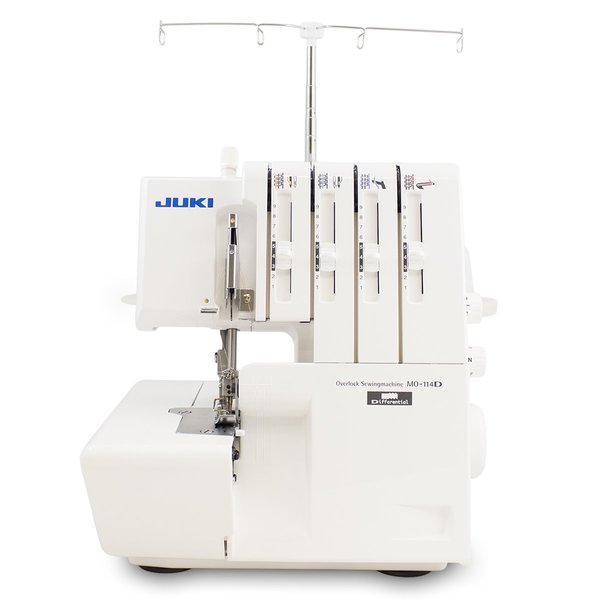 Lay In Threading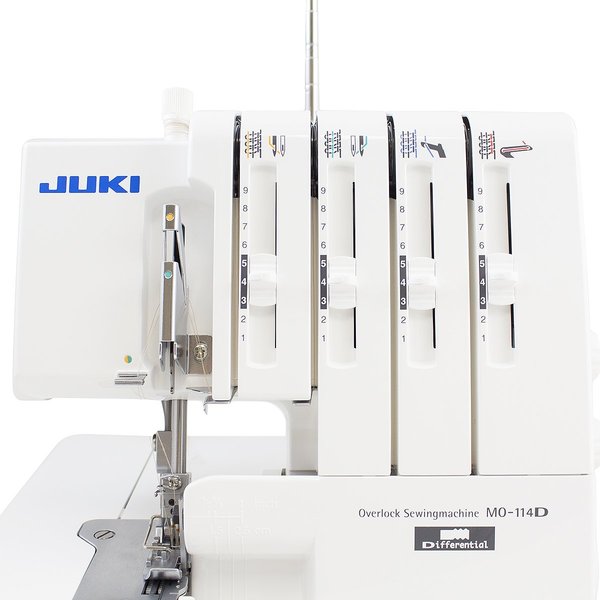 Tension Release Levers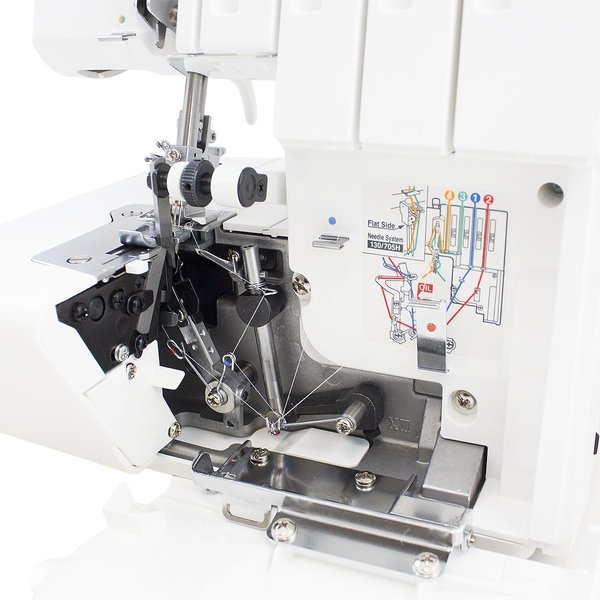 See how easy the Rolled Hem switch over is from regular serging to fine satin stitch without having to change needle plates for stitch fingers .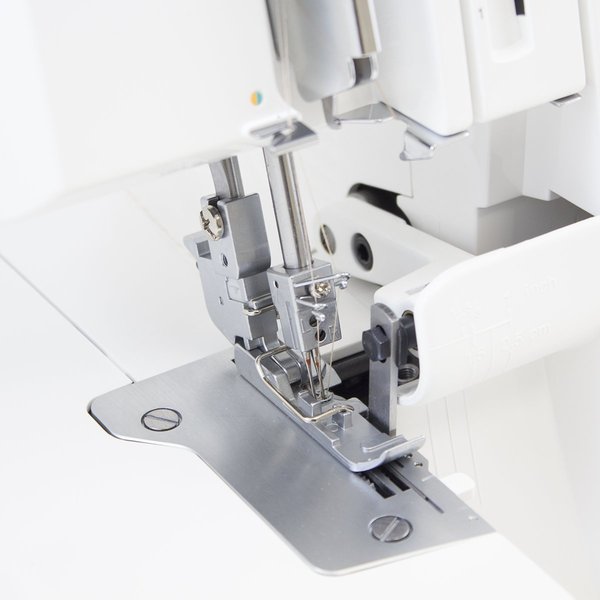 Heavy duty cutting capability from overhead moveable knife against lower fixed knife.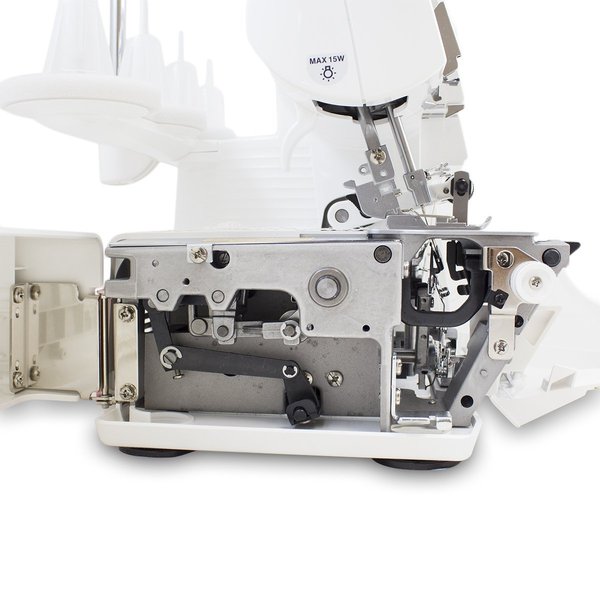 Heavy duty loopers, cams, differential feed dogs, lower and upper needle shafts.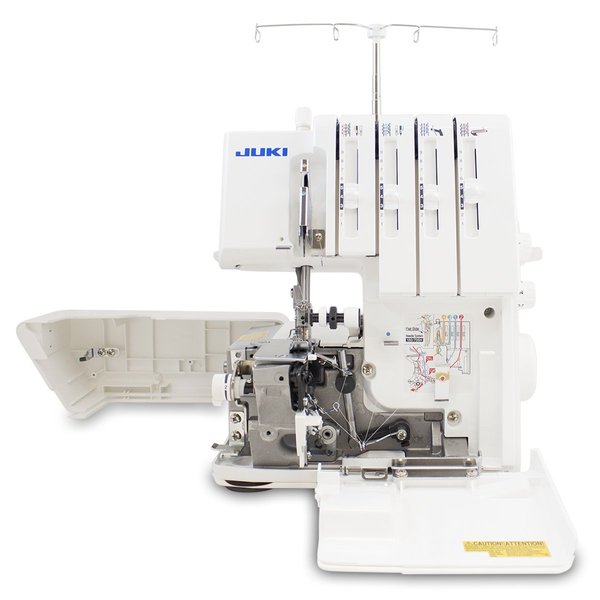 Open front, easy threading system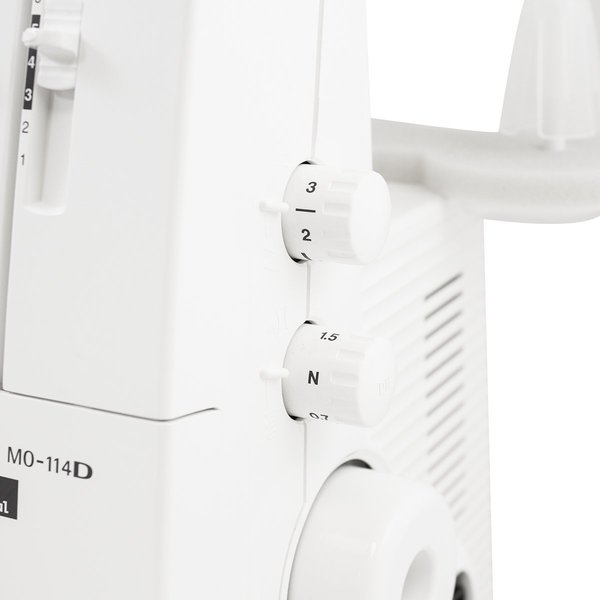 External knobs for stitch length and differential feed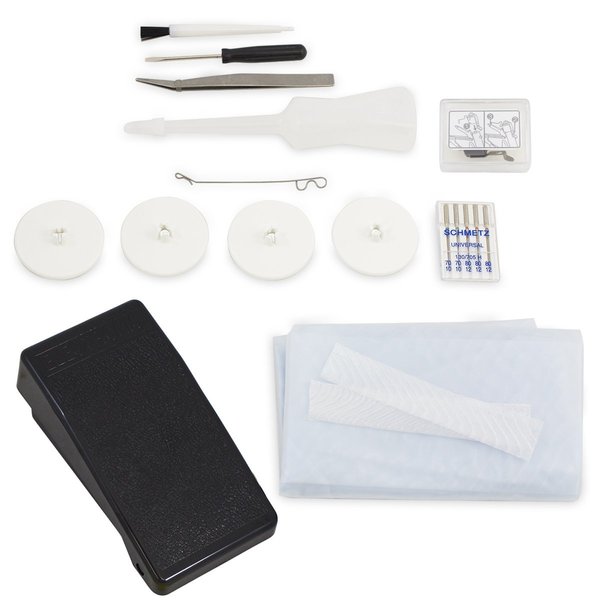 Accessories, including 2 thread adapter to change from 4/3 to 2 thread rolled he