Description
*Set up for Wolly Nylon Thread to Fill In Narrow 1.6mm Wide Satin Stitch Rolled Hems. Regular poly serger threads cannot achieve the satin stitch look the wooly nylon can.
This Juki MO6704-150 is set up as exclusive and dedicated narrow rolled hem edge machine.
Since the machine comes with a needle-thread take-up mechanism as well as a looper thread take-up mechanism, to offer upgraded responsiveness from light- to medium-weight materials with a lower applied tension, it achieves well-tensed soft-feeling seams that flexibly correspond to the elasticity of the material at the maximum sewing speed of 7,000rpm
The newly adopted upper and lower needle bar bushings of the needle bar mechanism improve both the durability and reliability of the needle bar unit. The machine comes standard with a cartridge type oil filter and cooling fan for further improved reliability and durability.
Gauges and devices you have used with your existing JUKI machines are also interchangeable with no additional machining. This eliminates both the waste of resources and unwanted extra costs.
US Warranty 90 Days labor on defects in materials and workmanship.
Non-US Warranty: 30 days parts and labor
Specifications
Stitch type: 1-needle overlock
Stitch style in the U.S.A.: 504
Max. sewing speed: 7,000rpm
Stitch length: 0.8
4mm
Needle gauge (mm): –
Overedging width (mm): 1.6
Differential feed ratio:
-For gathering 1:2(Max. 1:4)
-For stretching 1:0.7(Max. 1:0.6)
Needle bar stroke: 24.5mm
Inclination angle of the needle: 20°
Needle mechanism: Needle bar method and upper/lower bushing
Needle: DC27(excluding some subclass model)
Max. lift of the presser foot: 7mm(excluding some subclass model)
Max. presser foot pressure: 63.7N (6.5kg)
Stitch adjusting method: By push-button
Differential-feed adjusting method: By lever (with micro-adjustment)
Weight of the machine head: 28kg
Lubrication: Automatic
Lubricating oil: JUKI Machine Oil 18 (equivalent to ISO VG18)
Needle cooler: Optional
Needle thread heat remover: Optional
Micro-lifter: Provided as standard
Included Accessories
Instruction Manual
Needles
Other Images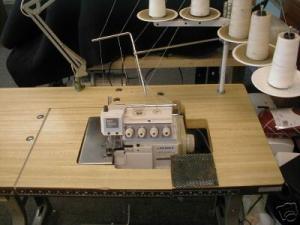 Submerged Serger Power Stand Table Included.